The ribbon flew last Thursday at Soss & Associates, a new Oro Valley independent insurance agency that has purchased a building Oro Valley's Innovation Park.
Oro Valley Mayor Joe Winfield welcomed the Soss & Associates team — Don Soss, his wife Patricia Martinelli and brother-in-law Chris Martinelli — to the community.
Soss told the audience,
he'd always dreamed about opening his own business.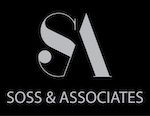 He's lived several places, but has never felt so supported by a community as he does in Oro Valley. Don was appreciative, and emotional. Joining Mayor Winfield in celebration were Chief of Police Kara Riley, Golder Ranch Fire District Assistant Chief Scott Robb with Community Relations Director and Chamber board member Anne-Marie Braswell, the town's economic development specialist Margie Adler, and Chamber Ambassadors Renee Deeter and Debra Melkun.
Don Soss is a member of the board of Chamber member Treasures 4 Teachers, which distributed disinfecting wipes to raise awareness about T4T. Rob LaMaster of Make-A-Wish Arizona had a raffle for $200 in credit at Hacienda del Sol. Renee Deeter won the prize. Soss & Associates is an independent insurance agency offering auto, home, business, contractor, pet and other insurance products. It is located at 1822 Innovation Park Drive, Oro Valley, 85755.
The website is https://www.sossassociates.com/, the phone 520-900-7311. Office hours are 9 a.m.-5 p.m. Monday-Friday.